Though I first wrote this about five years ago, the message is rings in my heart….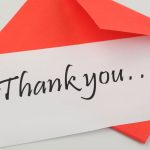 In between working on Reach UP and writing this editorial, I've been packing to move across the country. It's a big chore, but one of my delights has been to rediscover cards and notes written by friends and family tucked away in drawers and files. Love notes. Thank you notes. Daddy notes. Mommy notes. Kid notes.
Some are written on post-its, some on scraps of paper, others on stationery and cards. And now they are little reminders of love and appreciation.
My mom started me out writing thank you notes when I was a little girl. I was taught that if someone took the time to buy me a Christmas or birthday gift, they always deserved a note, even from a seven-year-old.
It's a good habit to keep and to teach.
Why not start the tradition with your friends and family and write a note to someone? Notes don't only have to be to express thanks. Sometimes people just need a note of encouragement, don't they? The fun part is deciding where to hide it for the best element of surprise! Lunch sacks and pillows are good places to tuck your notes in. Is your child going to camp? A note from you in their belongings will bring a smile.
You can also write notes in your working life. In this issue we talk about writing your resumé. Writing a note of thanks to the person who interviewed you makes you stand out from the rest of the job-seekers. It might just make the difference of being hired or not.
Look for ways to make people feel special by writing notes. And you are special, so I'll end this editorial with a note to you…
     You make my day. When I hear how much you like Reach UP and the articles, I just want to shout and dance and boast about how wonderful you are.
My love and prayers,
Crystal Wacker … Knapp